Restaurants and activities at the Pyrenees campsite
In order for you to have an excellent vacation at the Barétous Pyrénées campsite, we make sure that you are in the best possible conditions to make the most of your stay.
The snack bar at the campsite in Aramits
The snack bar of our 4-star campsite, open during the summer season, is the strategic point of the camping Barétous Pyrénées, place of passage and sharing, where you can relax at your convenience in a friendly atmosphere with quality products.
On the terrace by the swimming pool, you can have a drink in the sun, enjoy an ice cream, a hot drink, or let yourself be surprised by our local beers.
Come and discover the snack menu : burgers, sandwiches, pizzas, salads, aperitif boards, decorated with regional products (delicatessen, sheep cheese…) to whet your taste buds. All this, accompanied by a soda or a good glass of Jurançon.
The Wednesday evening in Aramits is THE unmissable event of the week. Let yourself be tempted by the Hispanic charms of the paella or a traditional recipe to discover the local flavors of the soil or elsewhere, and spend a pleasant moment of conviviality. Then immerse yourself in the Basco-Béarnaise culture with David, singer and guitarist from Béarn, who will make you discover traditional local songs: wonderful moments of sharing. Nothing better to spend pleasant vacations with family or friends and ensure an exceptional stay.
Please note : We invite our dear guests to come to the village every Thursday evening of the summer season for the Shepherd's Supper. Demonstration of shepherd dogs, traditional meal, local songs and dances, film projections on the Barétous valley, tasting of Jurançon : a whole program.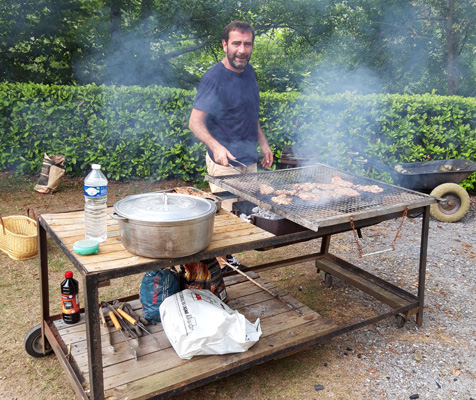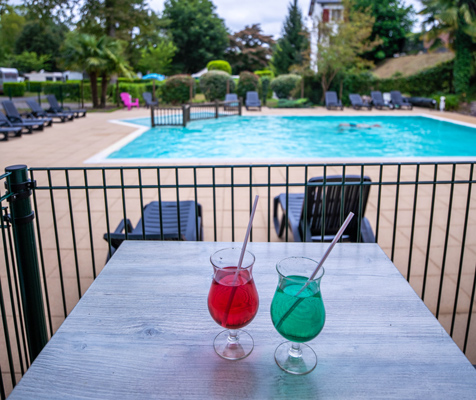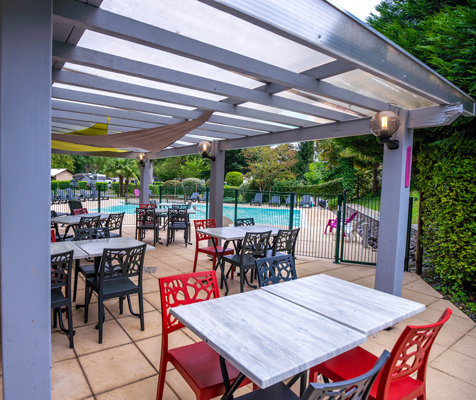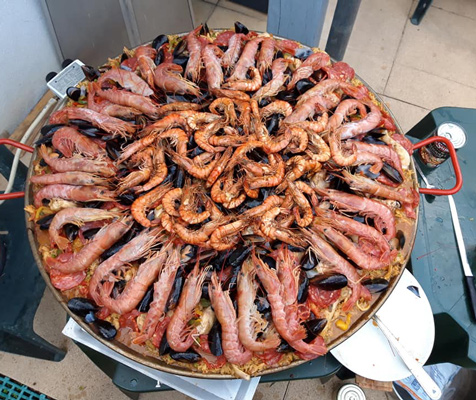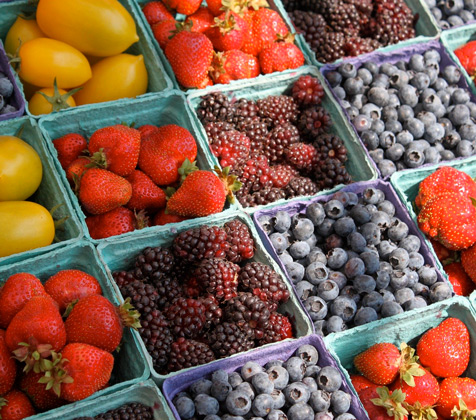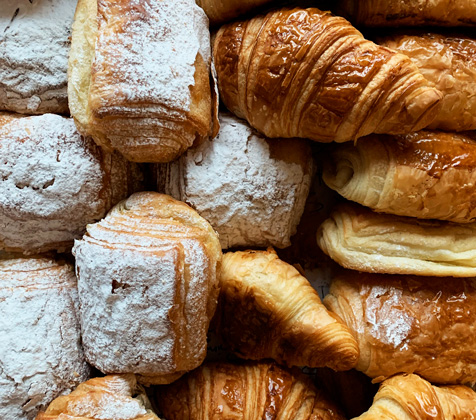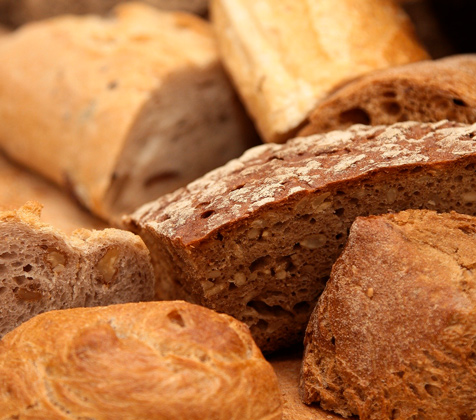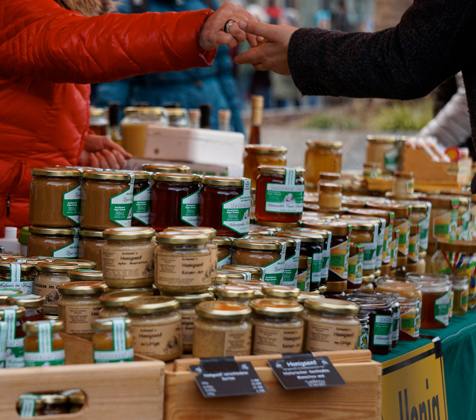 Grocery store and camping market
In July and August, from 8 am, you can take your breads and pastries ordered the day before. All these products come from a bakery that uses a traditional production method and organic raw materials.
On request the day before, we can, for the customers who wish it, prepare breakfasts with two possible formulas according to their desires.
At the campsite reception, we offer various basic necessities (pasta, rice, preserves, hygiene and cleaning products). You will also find local products that will allow you to sharpen your taste buds and discover regional flavours (veal axoa, honey, foodstuffs…) as well as Basque and Béarnaise beers and Jurançon wines.
The market of local producers at the campsite
In summer, we organize a small market in the campsite with local exhibitors who bring their products: sheep's cheese, honey, seasonal fruits and vegetables. It is also an opportunity to exchange with these professionals from the rural world on their traditional way of production, to taste these generous flavours and to buy without any intermediary, directly from the producer to the consumer.
All our rentals
For your comfort, we can rent you various items: sheets, barbecue, baby kit, baby chair, refrigerator. You will find all this information available at the reception of the campsite.
Sporty friends, if you want to make a mountain bike outing, no problem. We put at your disposal mountain bikes and electric bikes for rent for half a day, a day, two days or a week, at your convenience according to your wishes and desires.
A lot of information on mountain bike circuits and loops for all levels is available at the reception.
If you have your personal material, you can use the Bike Station at the entrance of the campsite to clean or repair your bike.
Bicycle group home
We are labeled "Accueil Vélo" and we welcome many groups or cycling clubs from all over France, for several days, to ride the roads of Béarn and the Basque Country.
We elaborate and propose together a personalized program for the reception of groups of cyclists, adapted to the needs of each one (accommodation and catering). We are in close collaboration throughout the preparation of the stays in order to best meet the wishes and ensure an irreproachable service. For any information request, please contact us by phone at 05.59.34.12.21 or by e-mail at contact@camping-pyrenees.com.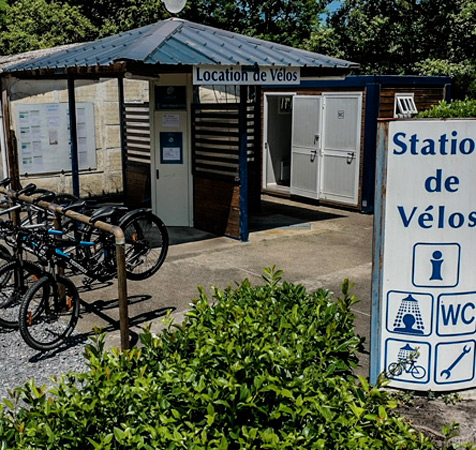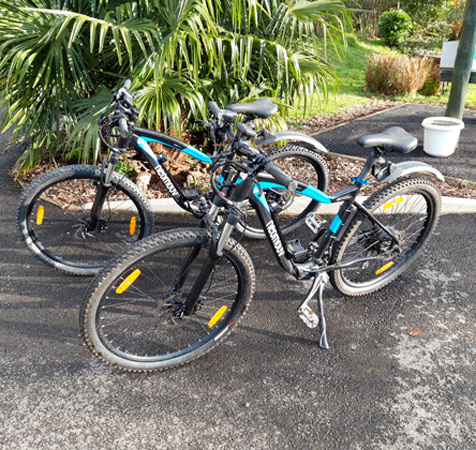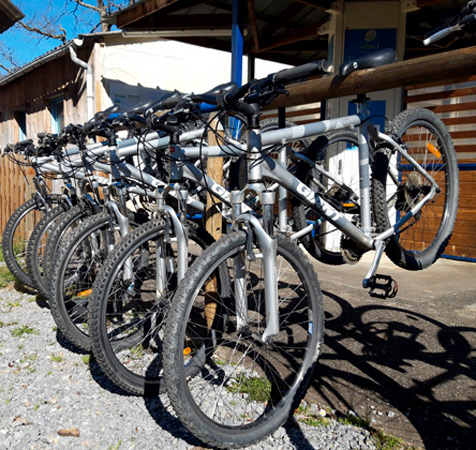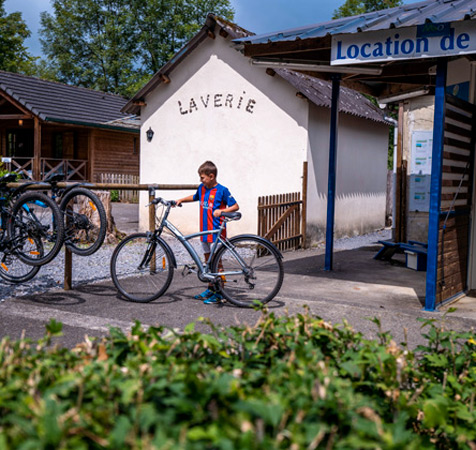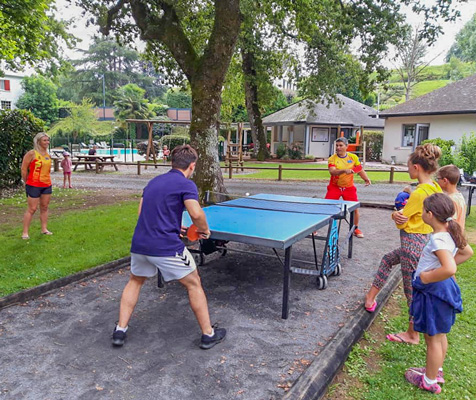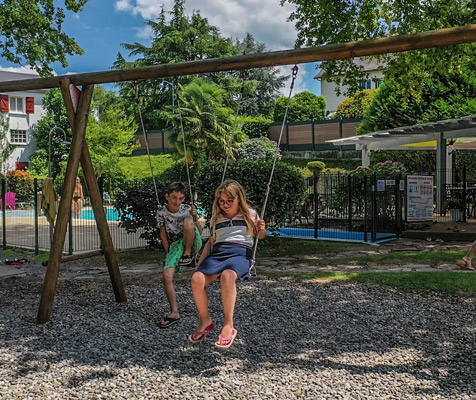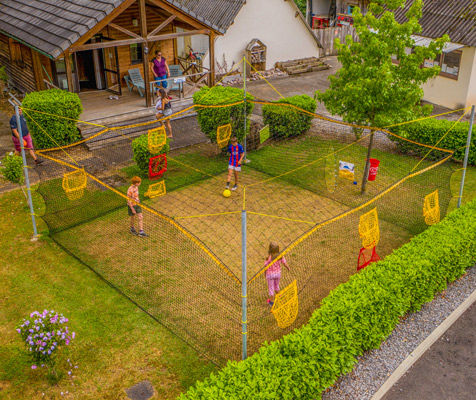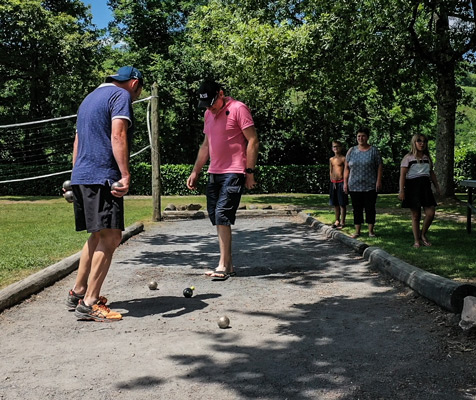 Our activities in Aramits
Playground and sports field
Vacations are also a time to relax while playing and having fun. The children will be able to enjoy the playground with its swing and slide under the parents' gaze.
It's also the occasion to play a game of petanque, ping-pong or volleyball.
We welcome groups throughout the year. From cycling clubs who wish to come and challenge the roads and passes of the Pyrenees, from 4×4 enthusiasts who want to get away from the mountain paths of the Barétous valley, from families who come to have a good time while enjoying the charms of the region, Motorcyclists in search of thrills on the many trails and modern-day adventurers, both French and foreign, who make a well-deserved stopover at the campsite and continue their journey through the Pyrenees.
There is something for everyone at the Barétous Pyrénées campsite.
For any request for information, contact us by phone at 05.59.34.12.21 or by e-mail at contact@camping-pyrenees.com.
Our hours at the campsite
The Wifi service is a free service in the reception area and the snack bar.
Schedules of the reception
Summer season: Saturday from 8:00 am to 11:00 am and 3:00 pm to 7:00 pm, Sunday to Friday from 8:30 am to 1 2:30 am and 3:00 pm to 7:00 pm.
Other periods: Monday to Saturday 9:00 am to 12:00 pm and 2:30 pm to 6:00 pm. Closed Wednesday afternoons and Sundays.
Supplements
Animal: 5€/day
charcoal barbecue rental : 5€/stay
Fridge rental: 5€/day
bed linen kit for 1 person: 6€/lit
bed linen kit for 2 persons : 7€/lit
Baby kit (high chair + bathtub + changing mat) : 2€/day
Washing jet: 5€
Drying token: 4€
Electric mountain bike rental: 20 €/day, 85€/week
Mountain bike rental: 14€/day, 60€/week
Bike station: Washing/repair at 2€, Sanitary/shower access at 3€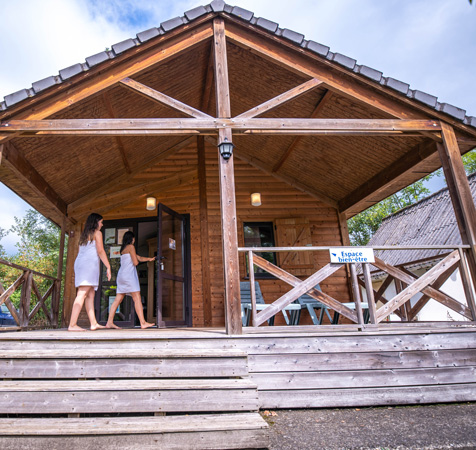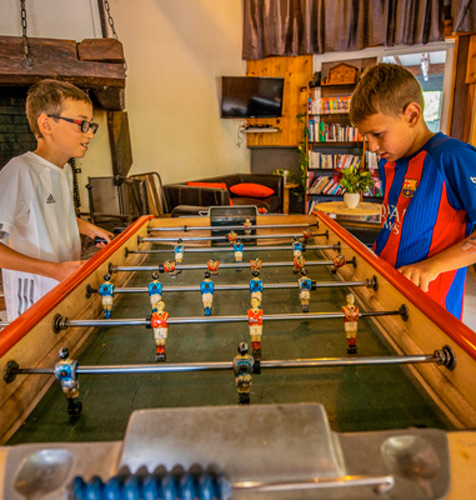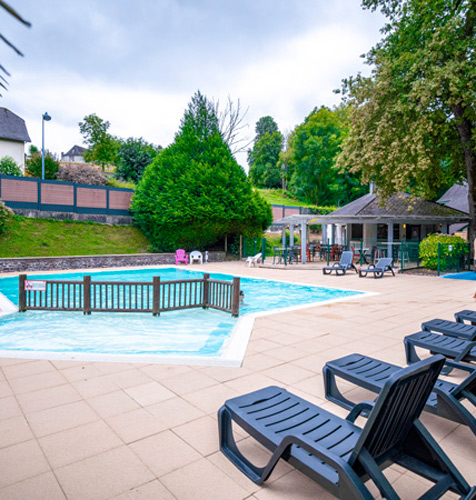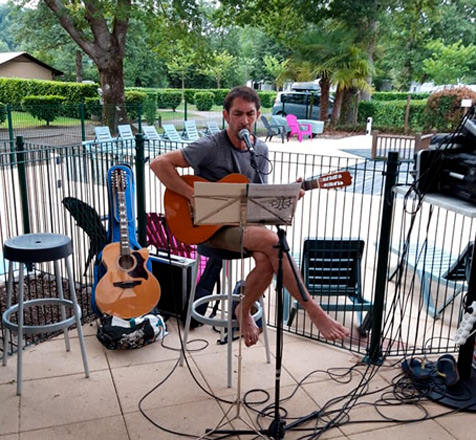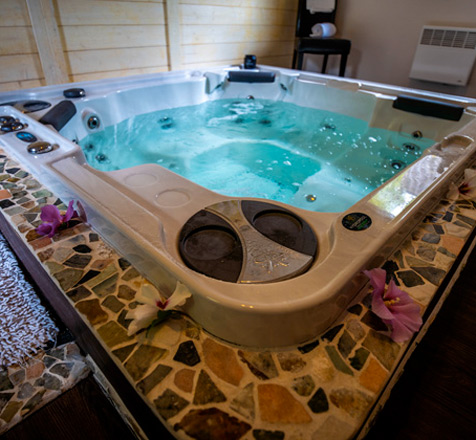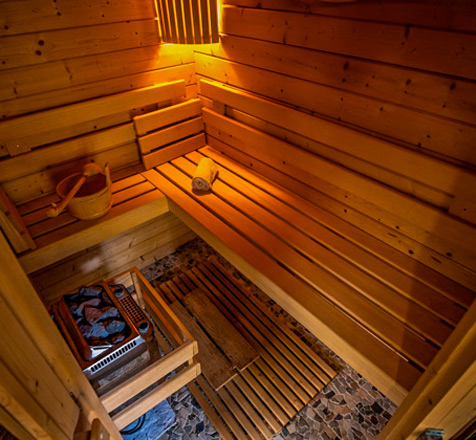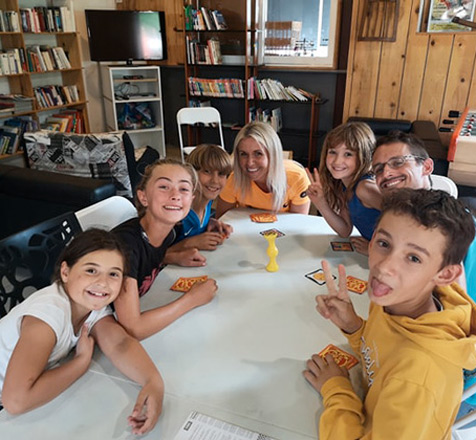 Our different services
Our family structure offers :
A playground with slide and swings.
A volleyball court and a badminton area.
A ping-pong table.
Pétanque courts.
A heated swimming pool with paddling pool.
You will also be able to take advantage of the petanque tournaments organized by our entertainer.
Meet our local producers who come to the campsite.
Enjoy trout fishing in "le vert de Balanes" near the campsite or simply borrow a book from the library.
Rent mountain bikes and discover our marked trails in the Barétous Valley.
Go for a short hike starting from the campsite…to get your feet wet before setting off to conquer the peaks of Anie or Arlas.
Enjoy a moment of relaxation in our well-being area (sauna and jacuzzi for a fee and on reservation).
A Californian massage at an attractive price (outside service provider for a fee and upon reservation).
Barétous Pyrénées Campsite in Aramits, between Haut-Béarn, Basque Country and Spain.
Discover the activities and leisures available at the Barétous-Pyrénées campsite!
Find our swimming pool and our rentals